WORKING WITH WILLYNWOOD
"I called Willynwood Kennels to inquire about info and availability of a recent litter of puppies, expecting to be given a price and application method for adoption. Instead I was pleasantly surprised to have a conversation with an experienced breeder, explaining many things I would never thought to ask and making me feel so much better about our choice of breed as well as breeder. Before money was even discussed I was offered support for all our questions and concerns up to and after adoption. Since adopting our baby girl Willynwood has been there to answer all questions with speed and compassion, putting our minds at ease and making us feel as though we are a part of a larger dog family. If and when we decide to grow our fur familythere is no question in our minds that we will seek another Willynwood Amstaff, they didn't just provide us with a service, they gave us a healthy beautiful (stubborn!) and SMART ball of energy we call "Gypsy"
Holly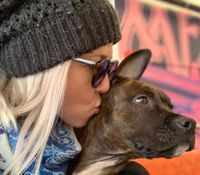 Willynwood Dogs Are Special and Here Is Why...
"After losing a beloved dog we had for years we were looking for a puppy. We could see that our mixed breed had some Amstaff in him and wanted that personality type in the new pup. I did some research and discovered Willynwood Kennels. I liked what I saw in the Willynwood dogs and their commitment to quality in the conformation and temperament of their program. i, myself have bred Reining Quarter Horses over the years so I understand how important that commitment is in a breeder. Seeing Bill Peterson's many years of experience as a breeder of champions, showing, judging and articles published in the Amstaff world I was confident these dogs were special, and they are.
I feel Bill and Laura not only breed these dogs they "LOVE" these dogs. That was important to me. The pups are welcomed into the world, loved, cuddled and cared for until they become yours. That care is ongoing for your pup and you, Willynwood are experts and always willing to share their knowledge. You and your Willynwood dog are part of the Willynwood family, you can keep up with news on the Willynwood Facebook page and website. Who doesn't like to see puppy pictures and hear about the accomplishments or just funny antics of the Willynwood dogs that we love.
Our Willynwood pup "Willynwood He's a Real Trooper" aka Burt is everything we wanted, he is beautiful ( I think he is perfect) smart, very trainable and athletic. He is playful and has never shown any bad or neurotic behavior traits. No matter where I take Burt someone always approaches me and says "wow that is a really nice dog!" I am very proud of Burt ! I have to say that his most outstanding characteristic is how much he loves us. To Burt  his people are his whole world, there is nothing better than that! I highly recommend a Willynwood Amstaff!
Donna